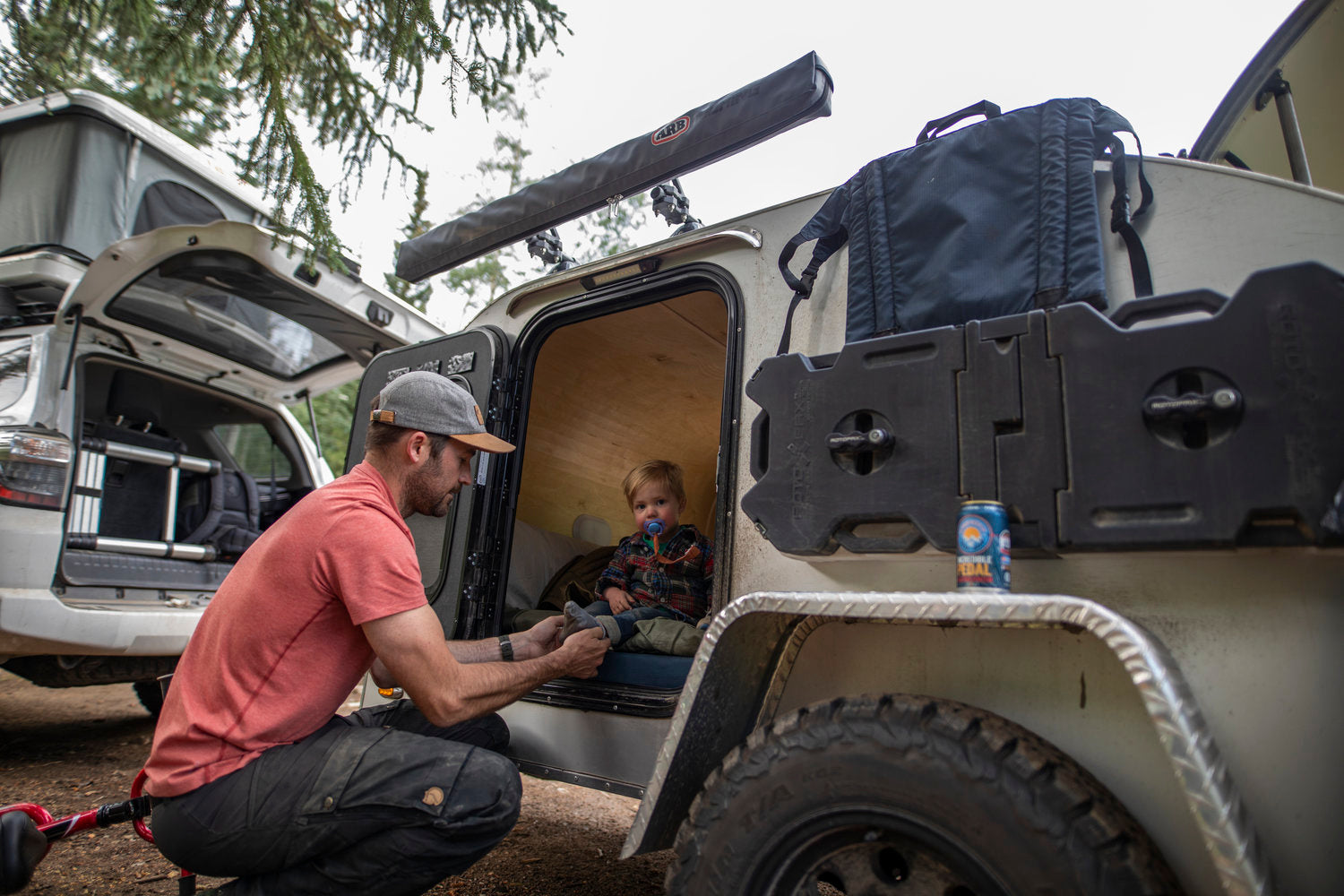 Escape the city for the weekend and connect with nature at these eight amazing campsites
Got all your gear and ready to hit the road? Looking for a weekend adventure but can't go too far? Well load up your teardrop trailer or rooftop tent because we've got some sweet suggestions for you within a two hour drive from the Denver Metro area.
Check out these eight must-see camping spots perfect for a quick Colorado getaway:
1. Asplenglen Campground - Estes Park, CO - 1.5 hours/68 miles from Denver
Aspenglen Campground is located on the Fall River entrance to Rocky Mountain National Park. This campsite is just a short drive into the town of Estes Park and provides luscious craggy views, an abundance of Douglas firs, wildflowers in bloom, herds of mule deer and our famous Rocky Mountain elk. At Aspenglen, you'll never run out of things to do, no matter your camping skill level. There are several hiking trailheads, fishing and kayaking areas, and scenic driving routes. The campground offers RV and camper sites, as well as walk-in campground spots. Every campsite is outfitted with a fire pit, tent pad, and picnic table—making it the perfect spot for your roof top tent or teardrop camper.
2. Jones Pass Road - Empire, CO - 1 hour 15 mins/55 miles from Denver
Jones Pass Road is technically a dispersed campsite, but it's easily accessible by car. To access the sites, exit I-70 and follow the signs down the road where you'll begin to see campsites. The further out you go, the more dispersed the sites are. Jones Pass provides a ton of hiking trails for beginner to intermediate hikers, gorgeous Aspen trees, and some breathtaking mountain views of St. Mary's Glacier. When camping here, you can get the full experience of being off the grid without actually being too far.
3. Beartracks Lake - Evergreen, CO - 1.5 hours/60 miles from Denve
The Beartracks Lake Trail is nestled up to the Mt. Evans State wildlife area. The trail travels the ridge between Truesdell Creek and Beartrack Creek up to Lower Beartrack Lake. During the summer months this is an increasingly popular hiking area, so make sure to get there and set up camp before it gets too crowded. This is another dispersed camp site, so all sites are off-road. These sites offer some of the best hiking near Denver, as well as gorgeous views of Mt. Evans, waterfront camping, and some great little fishing areas.
4. Rainbow Lakes Campground - Nederland, CO - 1.5hours/55 miles from Denver
Rainbow Lakes is the perfect campsite if you want to get out there, but not too far. It's one of the most undeveloped campsites in Boulder County, so it still feels like you're really roughing it while being somewhat near civilization. The campsite has 18 spots, ranging from trailer and RV to walk-in tent sites (and is great for popping up your roof top tent!). Rainbow Lakes provides some of the best backcountry hiking near Denver, with trails that overlook a scenic view of the nine chain lakes surrounding the campsite.
5.  Stillwater Campground - Granby, CO - 2 hours/99 miles from Denver
Located in the Arapahoe National Forest, the Stillwater Campground is a hotspot for anglers and water-lovers from across the country. Nestling up to Lake Granby, the largest reservoir in the Arapahoe National Recreation area, will ensure your summer camping experience is a memorable one. You can kayak, paddleboard, or fish just steps away from your site. This campground has 129 sites, ranging from electric to non-electric, and provides hookups for RVs and trailers as well as walk-in tent sites. Each site provides a fire pit, tent pad, and picnic table, so all you need to do is pitch your tent (or park your camper) and hit the lake for some Colorado summer fun!
6. Bellaire Lake Campground - Red Feather Lakes, CO - 2 hours/110 miles from Denver
Bellaire Lake Campground is located just 47 miles northwest of Fort Collins and is a hotspot for hikers and canoers. This campground provides unique rock formations, a multitude of hiking trails, and pine forests. The no-wake lake is a great spot to take the whole family for some peaceful kayaking or canoeing, scenic hiking, biking, and horseback riding trails, or some easy-going fishing. Every campsite provides a fire pit, tent pad, and picnic table, as well as restrooms and water on site. You can pitch a tent or bring the trailer, however you prefer to experience these gorgeous lake views (we recommend a roof top tent or teardrop camper!).
7. Mueller State Park - Divide, CO - 1 hour 45 mins/97 miles from Denver
Camping in Mueller State Park is one for the animal lovers. The park is teeming with elk, mule deer, small mammals, black bears, hawks, and many other species of birds. The park contains five different geocaches and over 40 miles of hiking trails for those experienced hikers who really want to get out there. Lined with Aspen trees, this campground is diverse and can provide you with whatever type of camping experience you're searching for. It's open year round, so bring the tent or trailer, or rent a yurt or cabin on site.
8. Cow Creek Campground - Heeney, CO - 1 hour 40 mins/90 miles from Denver
Cow Creek Campground is settled in the White River National Forest, which boasts over 2.3 million acres of land and 10 peaks surpassing 14,000 feet. This campground provides activities both on land and water, with access to boat ramps and kayak drops, as well as an abundance of hiking trails for beginners and experts. Fishing is a popular pastime here as well, with the Green Mountain reservoir home to both trout and salmon. The campground has 44 sites, suitable for tents or trailers and RVs.
---