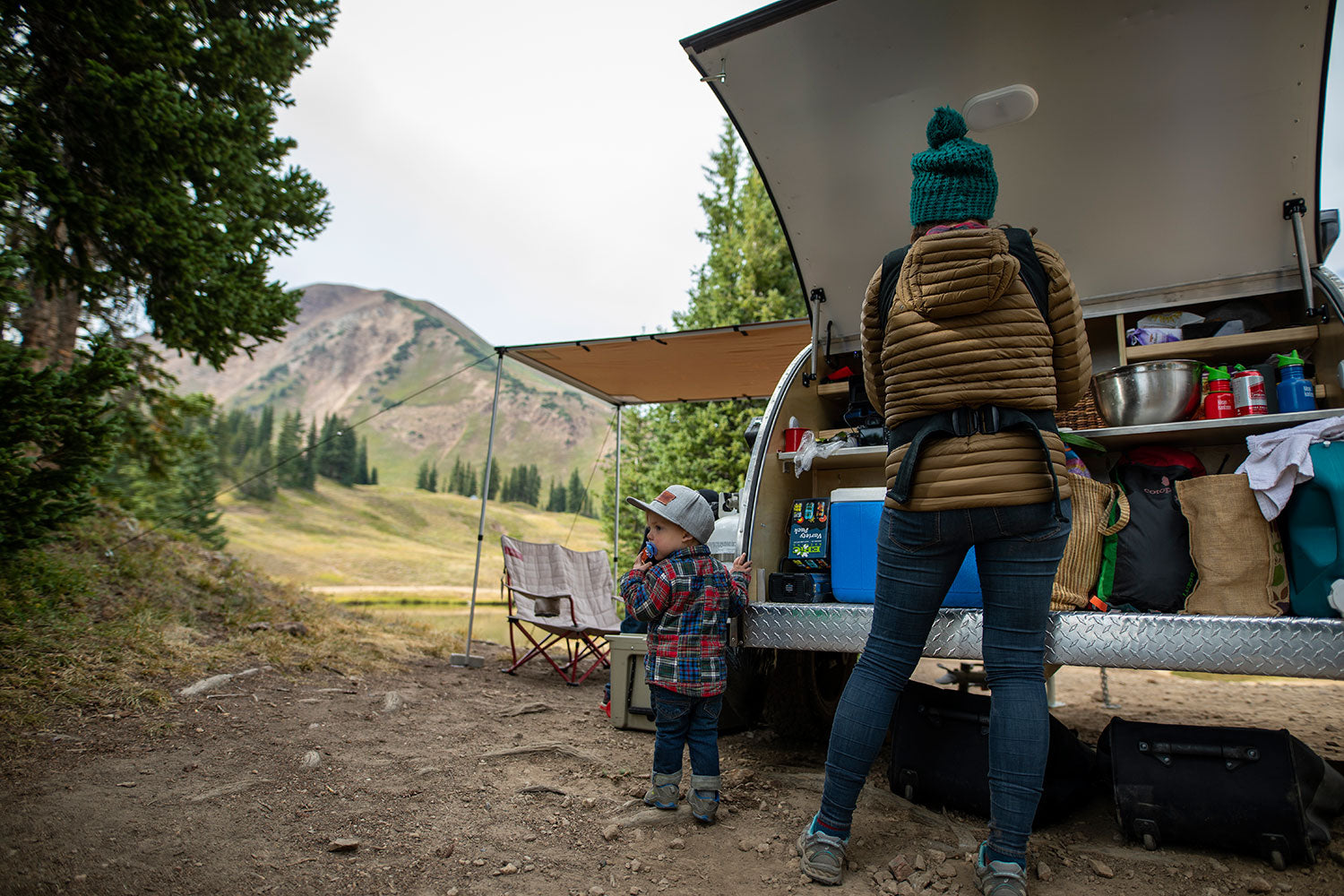 From the best tents to cooking accessories, we've got your back
Camping is a pack-and-go activity—what you bring with you need to be able to easily re-pack and bring along with you. That means it's essential you have everything you need on-hand in the most space-efficient way possible.
Here we break-down our favorite camping gear must-haves, from shower kits to survival kits:
Teardrop Trailers
Teardrop trailers are campers you can pull behind your vehicle and quickly pop-up for use. They're lightweight, compact and pack a punch when it comes to storage and amenities. Teardrop trailers feature ample seating, a galley kitchen, durable frame and furniture that transforms into bedding.
Rooftop Tents
Rooftop tent camping is another fun and unique way to camp. These are either hard shell or soft shell tents that attach directly to the top of your vehicle, enabling you to sleep as close to the stars as possible. One of the biggest benefits of a rooftop tent is that since it stays on top of your vehicle, you have more storage room inside your car for other important things. Interested in a roof top tent but want a vehicle with a little more off-road power? The Land Cruiser is one of the most reliable and capable vehicles in the world, and we offer the 80 and 100 series Land Cruisers.
Off-Road Trailers
Ready for more adventure than your roof rack can handle? Our CVT trailers are your ticket to more backcountry adventures. Constructed of steel with 31 inch tires, 3500 HD Timbren axle and brakes, these trailers not only allow you the luxury of camping off the ground, but provide plenty of storage for all your gear.
Boats
Kayaks and stand-up paddle boards are amazing accessories for camping and let you explore the outdoors even more. From a gentle jaunt across a pond to an exhilarating ride along the foot of a mountain, boats are an awesome way to get around and amplify your camping adventure. From beginner boards, to river boards, and six-person party barges—at Spirit of 1876 we've got the right board for you. We're proud to offer stand-up paddle boards by Sol, Kokopelli packraft models to accommodate all skill sets, river thrashers and two-person kayaks—all light and easily transportable to keep things simple.
Coolers and Cooking Gear
Cooking outdoors is one of the best parts of camping, but can also be among the trickiest aspects if you're not properly prepared. You'll need items for food storage, cooling and heating. We recommend:
YETI cooler: YETI coolers were built for the wilderness. These will keep your food ice cold and safe from spoilage.

Camp Chef stove: These stoves make cooking super easy and include a side table for your accessories. Plus, they're lighter than a normal grill, making them perfect for on-the-go cooking.

Lodge cast iron cookware: Cookware that can withstand the heat of an open flame, while also easily cleanable and reusable is key when cooking in the outdoors, and a cast iron skillet is a camping classic. These from Lodge are strong and reliable.

Dometic fridge: Compact, cold and perfect for storage in a trailer.

TemboTusk skottle: This South African cooking stove is the best decision you'll ever make. It mimics a skillet, grill or pan and can easily handle tons of different meal ideas, from bacon and eggs to meat, fresh fish and more.
Lighting
While the sun provides great natural light, you'll need some extra light on-hand at night. We recommend:
Lighting by Revel Gear: Revel Gear offers solar-powered lighting options that you can charge naturally during the day so you're fully prepped come nightfall. From solar packs to 30-foot light strings, these will keep you glowing well into the night.

Additional lighting and solar options from Goal Zero: Solar-powered lights and lanterns from Goal Zero are another great option to have on-hand. They have mini-lights and touch lights, in addition to lights that hang and can be chained together.
Queen Size Mattress
Would you believe that a teardrop trailer and roof top tent can both accommodate a queen sized mattress? They can! Just because you're in the outdoors doesn't mean you shouldn't get a great night's sleep. An inflatable queen size mattress will feel like a luxury at the end of a long day's adventure.
Rinse Kit for Showering
If you don't want to go the bear route (showering in the river), then you'll want to have a rinse kit. These are essentially portable, hand-held shower accessories that you can refill after each use. They're also great for washing dishes and anything else that may need a rinse while you're outdoors.
Outer Limit First-Aid Kit
If an injury happens in the outdoors, even a minor scratch, you'll definitely want (and need!) a first-aid kit nearby. All camping trips should have these on-board. Outer Limit's kits are filled with all the essentials you'll need and are waterproof, dust-proof and crush-proof so your supplies stay safe.
Survival Kit
Whether you mean to get lost in the wilderness for 72 hours or not, a survival kit that can keep you safe and healthy for that long is essential. Kits from VSSL are great because they include a mini first-aid kit, light, compass, firestarter kit, rope and razor, fishing kit, wire saw and much more—and it can all fit in the palm of your hand.
Solo Stove Bonfire
Portable fire pits are a must-have for camping—who doesn't want to sit around a fire together?! A metal fire pit that you can take with you will help reduce smoke, be safer for you and the environment, keep you warm and also give you another cooking option.
Don't have your own gear? We got you! Contact us to learn more about our gear add-ons, upgrades and rentals.
---