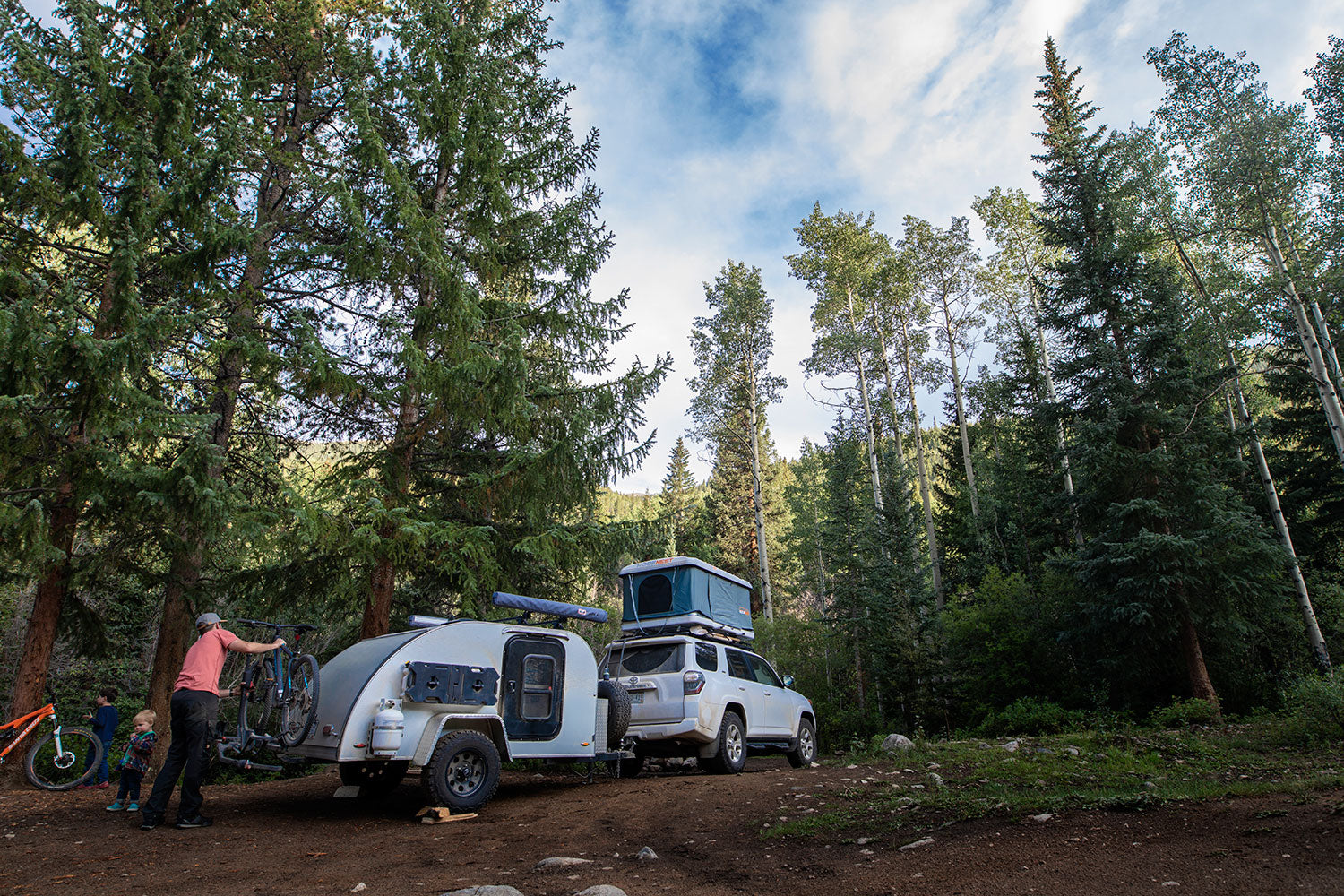 Our answers to some of the most common questions about rooftop tents
Rooftop tent camping is one of the most fun and unique experiences sleeping in the outdoors you could possibly have—but on average it also requires a bit more effort and research than traditional ground camping.
To help you decide if it's right for you, we're breaking-down some of our most frequently asked questions about roof top camping:
How much does it cost?
Since rooftop tents tend to be more durable, that also means they're usually more expensive than ground tents. Typically, it's a couple hundred bucks for a nice ground tent, whereas rooftop tents can go as high as a couple grand. That doesn't mean it's not worth it! But cost is an important factor to consider as you put together your camping plan.
Are they easy to transport?
Tents are heavy—and they're supposed to be! You don't want to blow away in a storm. When it comes to roof top tent camping in particular, the increased weight and loss of aerodynamics can sometimes result in fewer miles per gallon. Most rooftop tents will also require an upgraded rack to your vehicle to support the weight. Since this is usually an additional cost for first-timers, it's important to keep in mind when budgeting for your roof top tent. The bonus: it's an added investment that will be worth the extra expense!
Where do I put it when I'm not camping?
You mean you don't want to sleep under the stars on top of your vehicle every night?! When it's time to put your rooftop tent into storage, it's important to consider what your use will be. Will you want to use it fairly regularly, seasonally, or just a few times a year? Planning ahead will help you determine the best spot to keep your tent, since you won't want to constantly be taking it out and putting it back, especially since it's heavy. Although the installation and removal isn't difficult (only 8 bolts) the removal requires a buddy and some muscle.
What's the difference between soft shell and hard shell roof top tents?
There are two kinds of rooftop tents: soft shell and hard shell. Knowing the pros and cons of each, as well as the differences, will equip you with the knowledge you need to make the best choice for you.
Soft Shell
Soft shell tents are those with walls that are what we think of when we think of traditional tent camping. They're thin, lightweight and made of a sturdy, but breathable material like nylon, cotton canvas or polyester.
Soft shell tents tend to be less expensive, have larger sleeping areas, offer more shade, windows throughout (including stargazer windows) and sometimes also include an annex room for additional space.
While soft shell tents are a great option for any camper, one downside is that it requires more time to set up and break down: five minutes to open, but 15 minutes to close. You'll also need a larger campsite to set-up, as the footprint doubles the width of your vehicle. Soft shells also offer a less aerodynamic shape, so it's not as sturdy in a storm as hard shell.
Hard Shell
Conversely, hard shell tents are super easy to install—set-up and breakdown can usually be accomplished in under a minute. It has an extremely low-profile and is aerodynamic, sturdy and more storm-resistant. And, since it sits only on the vehicle, it requires less space to set-up and camp.
On the flip side, it can be more expensive, smaller than soft shells tents and stargazer windows aren't as standard as they are among soft shell tents.
---