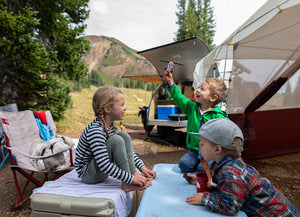 These mom-approved camping tips will keep the kids (and you) smiling
For many, camping is a family tradition that leads to some of the best memories and experiences. Tight bonds are often formed between family members and with nature itself. But take it from us—involving kids in a camping trip for the first time can be daunting.
Don't get left in the wilderness when it comes to camping with kids. Here are our best, mom-approved tips straight from Mrs. Spirit of 1876, herself:
Camping With Kids — Our Story 
When my husband mentioned he wanted to start camping with our girls, I went it to straight into panic mode. As a teacher, I was already comfortable and knowledgeable about children—but that was in a classroom and controlled environment. Sure my husband and I had camped together over the years as adults, but we now had three kids that we needed to work into our camping plan—beyond just the classic s'mores making.
I started to feel my palms sweat. But I also knew fresh air would do this family some good, especially our girls, so I agreed to take on the challenge and hoped for the best!
I soon discovered my worry was unwarranted. There was no need for panic—nature is a kids happy place, they find stuff to do without any help! They were the leaders on this camping trip, and we happily just followed them.
Kid-Friendly Camping Tips and Tricks
Here is a list of activities my little campers loved to do while outdoors, most of which they discovered on their own:
Flashlight tag

Playing a card game

Playing animal bingo

Singing campfire songs or tell ghost stories

Picking up sticks

Collecting rocks, painting rocks, stacking rocks…KIDS LOVE ROCKS! I came home with rocks in every pocket!

Making "magic potions" with natural elements like water, rocks and leaves.

Drawing pictures in the sand and dirt

Outdoor-themed scavenger hunts

Making leaf prints

Taking a nature hike

Looking at the stars

Finding and pressing flowers or leaves
We also discovered there are a few extra things you might want to pick up before heading out on your great adventure if you want to be extra prepared:
Kids binoculars for bird watching

A compass to learn navigational directions

Ropes for learning how to tie different knots

A map of your location to learn how to use a map key
In a nutshell: Camping with kids isn't as bad as you think. Our family really enjoys the fresh air, and the kids ended up having more fun than us! We just may let them pick our next camping trip.
---