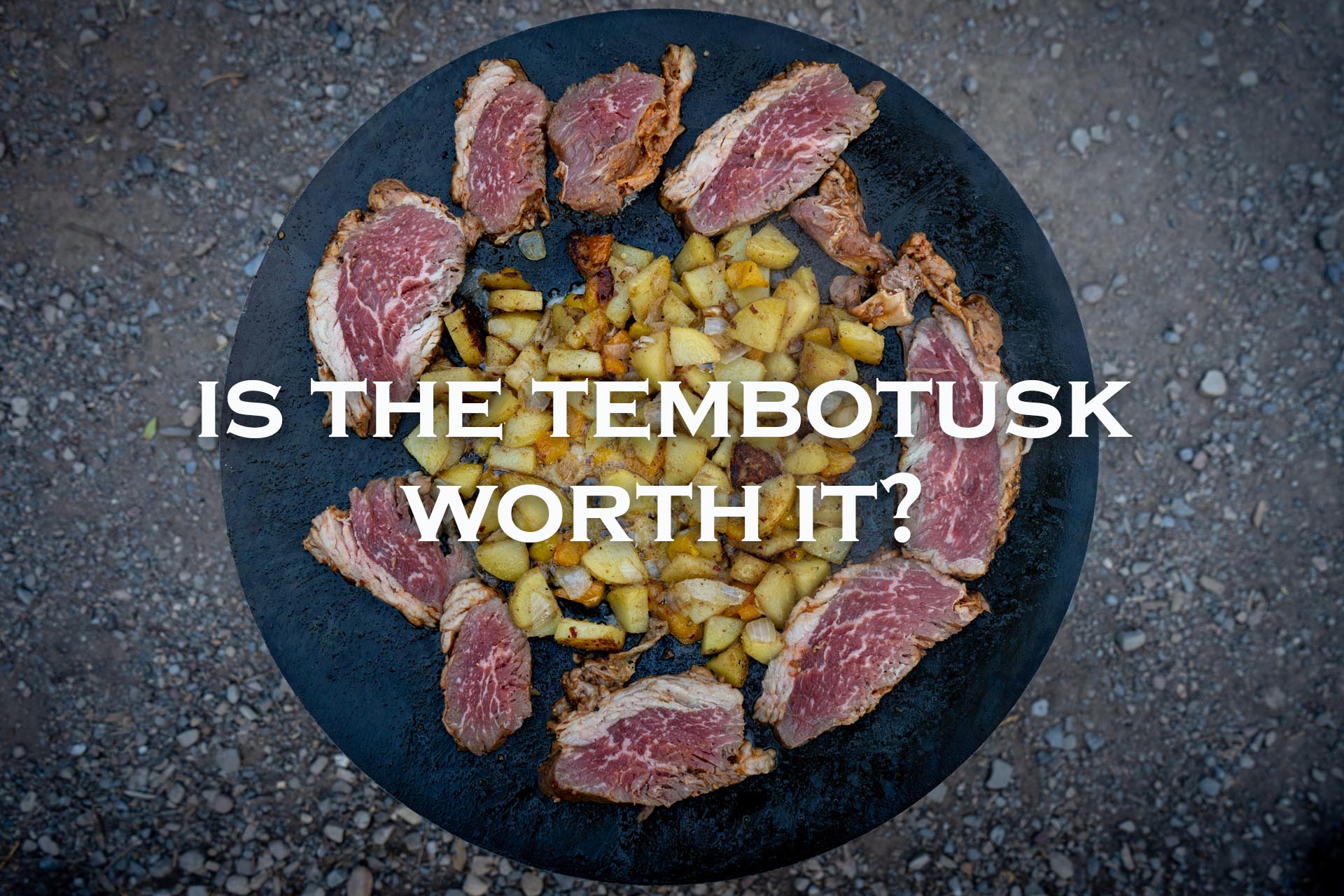 Well first of all what is the TemboTusk?  The TemboTusk is a propane Skottle. It has similar features as a wok but isn't as deep and acts like a cast iron skillet once seasoned properly. Having cooked on a Coleman stove for years I wish I would have know about the TemboTusk sooner. The TemboTusk might be one of the best cooking stoves on the market. 
Is the TemboTusk easy to Clean?
Yes! and we think this is one of the biggest benefits of a TemboTusk. All you need to do is use a little water and a paper towel. For the tougher clean ups you just keep the burner on and throw some water on it. 
The TemboTusk Burner
The burner itself comes in a small case and an attachment to use the standard Coleman green propane tank so they essentially work with all propane sources. The burner has a control panel that allows you to change the temperature so you won't burn the bacon. To ignite the TemboTusk burner you just turn the dial and push it and it starts itself. NOT TO MENTION if you want to boil water or cook with a pan the burner can be used separate from the skottle. 
TemboTusk Cooking
I found that cooking it on a lower level cooks the food more evenly than the higher temperatures. With the TemboTusk keep in mind that it acts very similar to a cast iron skillet so the more you use it the better it gets and flavor continues to build. So if it is your first time using it bring butter or a lot of oil. 
The TemboTusk breaks down into a small carrying case that allows you to easily store it. The ability to cook on the tailgate or the ground without having to bend over is a win in my book. I will say though with a standard tailgate panel it doesn't always fit level so it is nice to have something flat to cook on like a  Mountain Hatch. 
Final Thoughts
Now, I have been speaking nothing but good things so what is the down side of a TemboTusk? The biggest downside to me is that the heat is primarily in the middle so you have to do most of your cooking toward the center but once it is done you move it to the side so it keeps it warm which isn't a bad thing It just takes a little longer but after all we are outside enjoying what is around us. 
---